- by FTD STEADY on Tuesday 24th 2015f March 2015 (11:14:42)


| | | |
| --- | --- | --- |
| | Advanced Warfare App details | |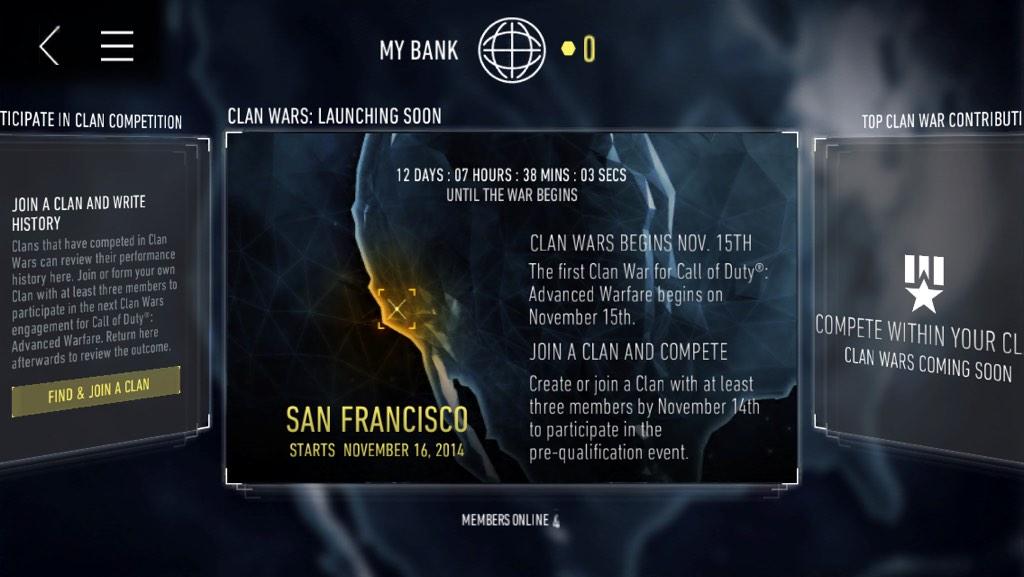 ]
This year, the app focuses on an enhanced Clan Wars experience, enriched Clan management, and unique content creation.

Clan Wars

Clan Wars for Advanced Warfare will begin with a pre-qualifying war from November 15th - 16th. Placement during that war will determine your division ranking for the first official Clan War, scheduled from November 26th – December 1st. On the line is the gold Exo for the Clan Wars exclusive gear set.


Players who participated in the final Diamond Division Clan Wars engagement for Call of Duty®: Ghosts and met the criteria to unlock the first piece of Clan Wars gear for Call of Duty®: Advanced Warfare will be able to access the Exo-skeleton on Day Zero. Congratulations!

To all Clans, from Bronze to Diamond, thank you for your participation and dedication this past year.

War Room

Your new Clan Wars experience begins with the War Room, providing a commander's oversight of the most important Clan Wars activity. Three scrollable panels offer pertinent info on the current Clan War, previous engagements, and Top War Contributors.

Utilize the Battle Report for a quick overview of current Clan Wars activity. Tap and scroll through nodes for a detailed view of capture objectives, Clan wins, and multiplayer XP bonuses. Check the Clan Wars scoreboard to see where your Clan ranks against the competition. Review Top War Contributors to discover your most impactful members during each engagement.

Reach into the Clan Wars Vault for an archived history of past triumphs and defeats. See your final standing, accumulated Clan XP, and any earned rewards.

Active Roster

To better accommodate scheduling conflicts, we're introducing the Active Roster. If some members of your Clan are unable to participate in an upcoming Clan War, the Clan Leader can remove those members from the Active Roster. Upon doing so, the absent members will no longer count towards the Roster count and any wins achieved by those members will not be recorded against the active war. The Clan Leader can just as easily add those members back to the Active Roster when they're available to compete.

Clan Profile

Your Clan Profile page has been bolstered to highlight the top performing members of your Clan. Each week, we will highlight your most active member, MVP, and player with the highest KDR. Nothing wrong with a little friendly competition, right?

Clan Calling Cards

Exclusive Clan Calling Cards will be supported in the game and in-app. Level up your Clan by competing in Clan Wars or playing multiplayer matches with Clan members to unlock more Clan Calling Cards.

Emblem Editor

Player Emblems are back in-game and in-app. Using our robust Clan Emblem editor, start designing your Emblem in the app while on the go, and then finish it at home on your console, or vice versa. In addition, this year, we're giving all Clan members the ability to design and submit a Clan Emblem to their Clan Leader for approval.

- by FTD STEADY on Tuesday 4th 2014f November 2014 (11:06:49)


| | | |
| --- | --- | --- |
| | Advanced Warfare upgrades | |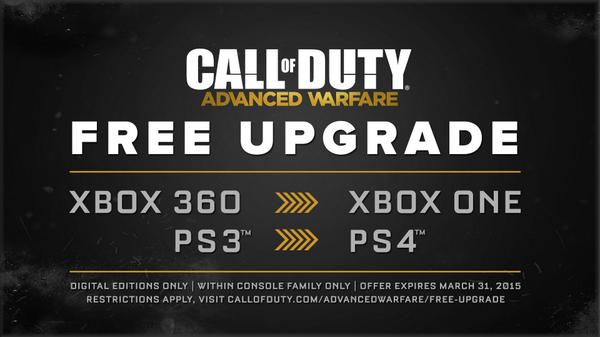 As fans around the world gear up for a new era of combat this November, we have great news for those of you who plan to secure your copy of Call of Duty: Advanced Warfare digitally. If you purchase a digital copy of Call of Duty: Advanced Warfare on Xbox 360 or PlayStation® 3 before March 31st, 2015, you will be able to download the next-gen version within the same console family for free.

In addition, Season Pass, all DLC purchased for in-game use, and Multiplayer stats will carry over free from Xbox 360 to Xbox One with no deadline.


- by FTD STEADY on Tuesday 4th 2014f November 2014 (11:04:45)


New video produced by FTD Steady



- by FTD STEADY on Saturday 6th 2014f September 2014 (18:18:22)


The third DLC Pack available for Call of Duty®: Ghosts, Invasion is set to release June 3rd for Xbox LIVE. Invasion features four Multiplayer maps:

Pharaoh - An abandoned archeological site of an ancient Egyptian palace. Those most adventurous to explore this multi-level map will be handsomely rewarded with its deepest secrets.


Departed - A rural Mexican town amidst the Dia de los Muertos (the Day of the Dead) celebration. Complete a Field Order to unlock the Death Mariachi - armed with dual-wielding pistols that turn downed enemies into your own squadmates.


Mutiny - A pirate hideout in a secretive Caribbean cove. This eerie map includes an hauntingly unique killstreak: an escort of ghostly pirates to send your opponents to Davy Jones' Locker.


Favela - A refreshed version of the fan-favorite Call of Duty®: Modern Warfare® 2 map. Return to Brazil to fight on the connected rooftops and narrow passageways.



- by FTD STEADY on Tuesday 3rd 2014f June 2014 (10:54:11)


| | | |
| --- | --- | --- |
| | Notice to MW3 BO2 players | |
Call of Duty Elite officially shuts down Friday;
As an extra thank-you for supporting Elite, users who have logged into the Call of Duty: Elite service since January 1, 2014 will receive two hours of Double XP in Call of Duty: Ghosts.
http://t.co/NsJAXDnkwQ

- by FTD STEADY on Tuesday 4th 2014f March 2014 (14:06:29)


- by FTD STEADY on Tuesday 5th 2013f November 2013 (00:12:33)




More duty than you can stab in the face! Frag Test Dummies will have a Xbox 360 "Call of Duty: Black Ops 2" Clan.

We are looking for more players to join us online. Requirements are Xbox Live Gold, COD Elite membership, microphone, and aged 16+. You must be willing to take part in Clan Operations, challenges and matches.

Interested? Then PM 'FTD Steady' via Xbox Live. Good luck out there!
- by Golem on Thursday 18th 2012f October 2012 (12:21:19)


Frag Test Dummies now have a Xbox 360 Call of Duty: Modern Warfare 3 clan.
We are looking for more players to join us online. Requirements are Xbox Live Gold, COD Elite premium membership, Mic, and aged 16+, the squad plays together most evenings and take part regular in Lone Wolf and Clan Operations.
Interested? Then PM FTD Steady via Xbox live - by
Golem
on
Monday 16th 2012f July 2012 (08:57:42)
| | | |
| --- | --- | --- |
| | Round 18 and Proxies outlawed! | |
I may not play anymore, but I sometimes dip in and see what Nukezone people are up to. Noticing that round 17 is now over with, I found out some startling news.

On January 14th, a new rule was added - proxy server use is now forbidden! The exception is those assigned by ISPs for normal use. Does this include companies who use proxies for their corporate LANs? Only the active players with access to the NZ forums can say.

Also, Round 18 introduces the Headquarters Buildings. This looks like an interesting change.
Rather than repeat data unnecessarily, go see for yourself here: http://www.nukezone.info/default.aspx#N158

- by Golem on Monday 30th 2006f January 2006 (11:47:29)


The vast vacuum created by my departure is being filled by gallihand; Diligent, Determined and suitably Naive. Well you have to be to take on this job. So give him all the support you can muster and then some. This clan needs each and every member to be very assiduous, tirelessly seeking out new clans to attack and boldy striking forth wherever gallihand tells you to. Dilly-dalliers will be ousted! It is time for a new era! Next round can be a round to be proud of but only if you all make that special effort.

As a side effect, you'll have a lot of fun while you're at it!

To mark his arrival, the first event that occurred under his control was the utter and complete destruction of every member's province at the hands of BoondockSaints (#61478). Each man went down fighting. I sought after such a fireball of glory myself each and every time a round ended, so hats off to Gallihand.
And respect to BoondockSaints for pulling off a great boost with B2s and Arty to specifically destroy us, tear us to pieces, stomp on the little bits left over and then set them on fire.

Many thanks dummies, for wasting two years of my life, mass murdering nonexistant forces of virtual provinces across the world. I wish you the best success.
- by Golem on Monday 3rd 2005f October 2005 (18:10:27)


I have no idea what those boys in the crew are playing at, but I can imagine there are a lot of heated players out there right now!
With only three days to go, NZ is "disabled due to server maintenance." What does this mean?

Well, it means I suggest you go ahead and use the following web page provided by your favourite clan. What? No, I meant FTD...

It's the auto-refreshing round start checker, and so will alert you as soon as the servers are open for business once again. Now updated - the title bar counts down till the next refresh!


The HTML file is designed to work from your own PC, so download it from here:
http://www.ftd.org.uk/main/data/files/StartOfRoundCheck2.zip

(Link Edited, now there's a new version in the files section and I was pointing to the old file)

The JavaScript code works in IE only, so open this page in IE and let it sit on your desktop, saving your from wasting a good F5 key.
- by Golem on Friday 30th 2005f September 2005 (23:36:46)


| | | |
| --- | --- | --- |
| | The sun sets on another era | |
Yes, the time has come again, when the tanks shall roll back into the garages, the planes back into their hangers, the infantry get back off the field and into the mess halls for some well earned R&R. The end of Round 16 is upon us.

This certainly was a chillout round with little activity in comparison to previous franticities.

Next round will be important, there are some key management changes in the pipeline.
FTD will be looking to renew its vigour and vim in what could be a very interesting round. If you're not in the clan yet, why not! Follow the link at the top of the page to the recruiting form and get yourself enrolled. Be a part of something... a bit odd.

It's been fun dummies. Now maintain a keen eye on Nukezone and be ready to leap back in the chair labelled 'Commander' as soon as Round 17 begins. You know, no one in FTD's history has yet earned the rank of 'Black Operative'. Could YOU be the first?

Over and out.

- by Golem on Wednesday 28th 2005f September 2005 (10:50:57)


| | | |
| --- | --- | --- |
| | Round 16 screaming in yer face | |
Round 16 began with a jolt yesterday without warning!


So here we are, on the edge of another precipice, hoping that head scratching may one day miraculously provide aerodynamic abilities.


We're back on the fast track of points hunting! There's much to consider, so get into those NZ Clan Forums and start giving us your feedback!

I wish you all the best of times during this round. Let's roolllllll!

- by Golem on Tuesday 12th 2005f July 2005 (16:48:13)


This round, FTD took on the Nukers. All-Nuker clans were our target, not points, not networth. Nuker-Only clans have it too easy, so we wanted to make as many of them suffer over a 48 hour period as possible.


Glad to say, it worked. To stay in range of a typical nuker, and be able to fight them, we had to maintain 350 or so AMS buildings with little to no unit defence. Using EMP sats, EMP missiles, and many Heavy Artillery and B2 units, we squashed the nukers we came up against very effectively.


We gambled that, with only building killing units, we wouldn't be a target for points clans. Generally, we weren't. Only six declarations were suffered by FTD, two of those from the same clan.


It took time to ensure we fought only nukers, (i.e. had decent points, no unit housing, much defence), so wars were pretty sparse this round. But when we did fight, it went very well indeed.

Here's the article detailing our efforts as posted up on the Nukezone Portal: http://www.nukezone.info/articles.aspx?X=69

My thanks to the Frag Test Dummies who stood by the clan throughout the round. Working in line with the strategy was essential to our success in war and indeed through the entire round. Your contributions were always appreciated, especially when they were actually in line with your orders and/or helped advance the clan during the round. Or brought a laugh.


For members only, look in the bulletins list for the article I submitted to the NZ portal which explains what we got up to.

Sleep well.

- by Golem on Thursday 7th 2005f July 2005 (14:15:50)


| | | |
| --- | --- | --- |
| | Round Fifteen to commence | |
The next round is apparently due to start today.

FTD are taking a different approach for round fifteen just for a change, which will either be a lot of fun or a real pain in the rear.


Sadly, despite what I was told in #nukezone by a member of the NZ team, the clan and province data was reset before logging in was available to us, so our entire war history for round 14 and our final points have all been lost. Golem is NOT a happy bunny!!

- by Golem on Thursday 14th 2005f April 2005 (11:48:14)


Pick of the day
03/10/2005:
Our honourable and franticly insane finale in round 16. We went down fighting till the last day. :)

Posted by Golem

Quote of the Day


<[FTD]Golem> Well once again I fall into a slumber, facing the very real possibility that I may be dead when I wake up
<[FTD]Golem> Strange sentance...
(01/07/2004)

Player Data

NEWEST PLAYER

killing headache for NZ
joined 29/04/07

---

Birthdays

Lurkersoul was 34 years old
4 days ago.



---