- by FTD STEADY on Tuesday 24th 2015f March 2015 (11:14:42)


| | | |
| --- | --- | --- |
| | Advanced Warfare App details | |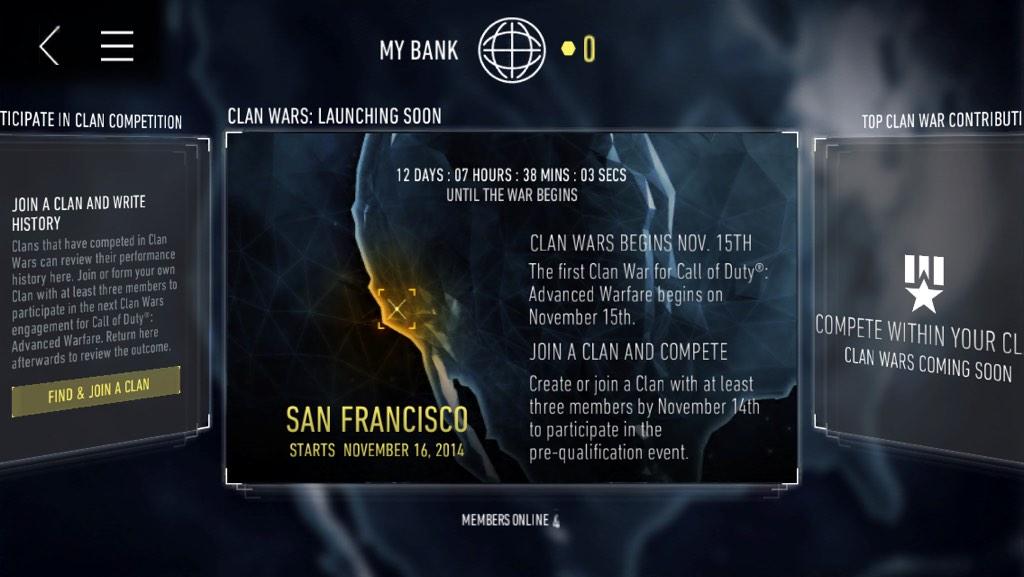 ]
This year, the app focuses on an enhanced Clan Wars experience, enriched Clan management, and unique content creation.

Clan Wars

Clan Wars for Advanced Warfare will begin with a pre-qualifying war from November 15th - 16th. Placement during that war will determine your division ranking for the first official Clan War, scheduled from November 26th – December 1st. On the line is the gold Exo for the Clan Wars exclusive gear set.


Players who participated in the final Diamond Division Clan Wars engagement for Call of Duty®: Ghosts and met the criteria to unlock the first piece of Clan Wars gear for Call of Duty®: Advanced Warfare will be able to access the Exo-skeleton on Day Zero. Congratulations!

To all Clans, from Bronze to Diamond, thank you for your participation and dedication this past year.

War Room

Your new Clan Wars experience begins with the War Room, providing a commander's oversight of the most important Clan Wars activity. Three scrollable panels offer pertinent info on the current Clan War, previous engagements, and Top War Contributors.

Utilize the Battle Report for a quick overview of current Clan Wars activity. Tap and scroll through nodes for a detailed view of capture objectives, Clan wins, and multiplayer XP bonuses. Check the Clan Wars scoreboard to see where your Clan ranks against the competition. Review Top War Contributors to discover your most impactful members during each engagement.

Reach into the Clan Wars Vault for an archived history of past triumphs and defeats. See your final standing, accumulated Clan XP, and any earned rewards.

Active Roster

To better accommodate scheduling conflicts, we're introducing the Active Roster. If some members of your Clan are unable to participate in an upcoming Clan War, the Clan Leader can remove those members from the Active Roster. Upon doing so, the absent members will no longer count towards the Roster count and any wins achieved by those members will not be recorded against the active war. The Clan Leader can just as easily add those members back to the Active Roster when they're available to compete.

Clan Profile

Your Clan Profile page has been bolstered to highlight the top performing members of your Clan. Each week, we will highlight your most active member, MVP, and player with the highest KDR. Nothing wrong with a little friendly competition, right?

Clan Calling Cards

Exclusive Clan Calling Cards will be supported in the game and in-app. Level up your Clan by competing in Clan Wars or playing multiplayer matches with Clan members to unlock more Clan Calling Cards.

Emblem Editor

Player Emblems are back in-game and in-app. Using our robust Clan Emblem editor, start designing your Emblem in the app while on the go, and then finish it at home on your console, or vice versa. In addition, this year, we're giving all Clan members the ability to design and submit a Clan Emblem to their Clan Leader for approval.

- by FTD STEADY on Tuesday 4th 2014f November 2014 (11:06:49)


| | | |
| --- | --- | --- |
| | Advanced Warfare upgrades | |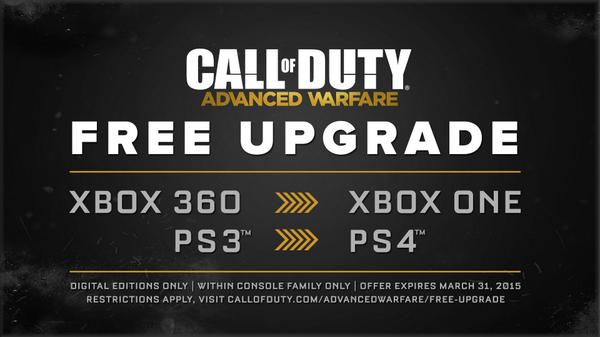 As fans around the world gear up for a new era of combat this November, we have great news for those of you who plan to secure your copy of Call of Duty: Advanced Warfare digitally. If you purchase a digital copy of Call of Duty: Advanced Warfare on Xbox 360 or PlayStation® 3 before March 31st, 2015, you will be able to download the next-gen version within the same console family for free.

In addition, Season Pass, all DLC purchased for in-game use, and Multiplayer stats will carry over free from Xbox 360 to Xbox One with no deadline.


- by FTD STEADY on Tuesday 4th 2014f November 2014 (11:04:45)


New video produced by FTD Steady



- by FTD STEADY on Saturday 6th 2014f September 2014 (18:18:22)


The third DLC Pack available for Call of Duty®: Ghosts, Invasion is set to release June 3rd for Xbox LIVE. Invasion features four Multiplayer maps:

Pharaoh - An abandoned archeological site of an ancient Egyptian palace. Those most adventurous to explore this multi-level map will be handsomely rewarded with its deepest secrets.


Departed - A rural Mexican town amidst the Dia de los Muertos (the Day of the Dead) celebration. Complete a Field Order to unlock the Death Mariachi - armed with dual-wielding pistols that turn downed enemies into your own squadmates.


Mutiny - A pirate hideout in a secretive Caribbean cove. This eerie map includes an hauntingly unique killstreak: an escort of ghostly pirates to send your opponents to Davy Jones' Locker.


Favela - A refreshed version of the fan-favorite Call of Duty®: Modern Warfare® 2 map. Return to Brazil to fight on the connected rooftops and narrow passageways.



- by FTD STEADY on Tuesday 3rd 2014f June 2014 (10:54:11)


| | | |
| --- | --- | --- |
| | Notice to MW3 BO2 players | |
Call of Duty Elite officially shuts down Friday;
As an extra thank-you for supporting Elite, users who have logged into the Call of Duty: Elite service since January 1, 2014 will receive two hours of Double XP in Call of Duty: Ghosts.
http://t.co/NsJAXDnkwQ

- by FTD STEADY on Tuesday 4th 2014f March 2014 (14:06:29)


- by FTD STEADY on Tuesday 5th 2013f November 2013 (00:12:33)




More duty than you can stab in the face! Frag Test Dummies will have a Xbox 360 "Call of Duty: Black Ops 2" Clan.

We are looking for more players to join us online. Requirements are Xbox Live Gold, COD Elite membership, microphone, and aged 16+. You must be willing to take part in Clan Operations, challenges and matches.

Interested? Then PM 'FTD Steady' via Xbox Live. Good luck out there!
- by Golem on Thursday 18th 2012f October 2012 (12:21:19)


Frag Test Dummies now have a Xbox 360 Call of Duty: Modern Warfare 3 clan.
We are looking for more players to join us online. Requirements are Xbox Live Gold, COD Elite premium membership, Mic, and aged 16+, the squad plays together most evenings and take part regular in Lone Wolf and Clan Operations.
Interested? Then PM FTD Steady via Xbox live - by
Golem
on
Monday 16th 2012f July 2012 (08:57:42)
OK, just checked how the signups are going. There are now 8 clans signed up for the EQ3FL division 1:

1 Knights of Camelot
2 9men
3 Warlord Crew
4 Mercenaries of Vengeance
5 Clan Nice*
6 Jaegermeister
7 UKR
8 Us

As you can see, we are going to have some challeneges
- by Kanonfodda on Thursday 15th 2004f January 2004 (11:47:56)


We are signed up for EQ3FL season 5, so everyone needs to make sure they are around for as many practice nights as possible between now and the 26th January.

Currently there are only 2 other clans signed up into our devision, but with any luck a few more will join before the deadline.

See you all on the field dummies

- by Kanonfodda on Thursday 8th 2004f January 2004 (12:28:41)


In the year and 4 months that ive been in FTD, ive had more fun playing Q3F than I ever thought possible. I joined on the 21/08/02 and I sure as hell dont regret it and im sure that ill never forgett it. Since then, the Master Chief Thong Wearer Bald Smelly Fat Guy (going by IRC last night) took me under his wing and taught me the ways of the Dummie. Not only that though, he's been there to listen and to give advice in a time of need when things havent been going to swell for me. Weve had thrills and spills, Laughs and just pant pissingly funnie times were your stomach cramps as you try and squeeze that last inch of air out of your lungs for one more gagging wheezing laugh.

The one and only Golem shall be departing us from this virtual life to catch up on the past 2.5 years of missed real life
He shall still be about now and then, but this weekend shall be the last time he leads us onto the unknown world of Q3F.

So Golem, I Salute You o7

GG SuH!

boo

:'-)

(Listening to 'Live - What Are We Fighting For' at time of typing, very moving
)



- by boo on Thursday 18th 2003f December 2003 (10:13:02)


News to be glad about, and news to be sad about. Snuffsaid is an old-school QWTF player who hasn't got much experience in Q3F but is a nice chap prepared to do whatever it takes to be counted worthy to be fragged alongside us lot. Tetric however is departing our world to develop his tennis elbow.
Welcome snuffy, and safe travels to you Tet.

- by Golem on Wednesday 17th 2003f December 2003 (00:59:29)


Actually, the end has been and gone. The EQ3FL is over, and FTD finished 4th place.
I don't honestly feel this reflects the amazing results we've achieved this season, but then those who finished above us also deserved to be there, the likes of MOV, ECA, etc. Congrats to you guys, especially to MOV.

So now we're playing the knockouts that Dogs, the champion of the Q3F community, is organising.
We had a totally unexpected result against DON last week, when we won by a single cap on CBases. In accordance with knockout rules, DON were one man less than us too, which helped us a great deal. But the game was nicely played with a lot of effort from both sides, it was good fun. AGO were next and they made sure we knew our place.
- by Golem on Sunday 14th 2003f December 2003 (14:46:17)


| | | |
| --- | --- | --- |
| | Can FTD make the playoffs? | |
Perhaps... we have a good chance of ending up second in this division of the EQ3FL! Practice on Wednesday was shabby, so ensure you turn up in good time for our match and practice on Sunday so we can do our utmost to really nail it this time.
Go on, it's about time we bathed in glory (as opposed to our own giblets.)

- by Golem on Thursday 20th 2003f November 2003 (17:55:24)


For those useless monkees who never check http://www.q3f.com (such as myself) it has come to my attention (thanks CyberDrac) that 2.3 has finally been released.

get it here:http://www.planetquake3.net/download_ticket/blueyondercenter.php?lid=1827

KF

- by Kanonfodda on Sunday 9th 2003f November 2003 (10:30:30)


At 9 to 8 on Sunday we should be on a server somewhere ready to play our next EQ3FL match on H4rdcore against 9M (whose team size, because of the map player limit, will go from nine to eight). We're up for a challenge so be ready to practice AT 19:00 GMT (so be on IRC by 18:45). And I predict the 9M 'aer to ate' Meth's rockets and the score will be nine caps to eight to FTD! Whoohoo! B)

Maybe.

Oh and by the way you slack-jawed stinking yokels, the Q3F ladder has gone very quiet lately, with only the three top players fighting it out. Where's the competition gone? Click that link on the right NOOOWW and get challenging!!

- by Golem on Saturday 1st 2003f November 2003 (14:40:13)


To make sure you know, can I direct you attention this way -->

The match starts at 21:00. Please please PLEASE be well in time. Sort out your dinner, dog walking, cigarette breaks, monitors, mice, reinstalls, dog walking, good lurvin, film watching, dog walking, etc. beforehand because if we don't start these games as soon as possible, it'll be a late one.

Thanks in anticipation.
- by Golem on Wednesday 22nd 2003f October 2003 (22:42:29)


Pick of the day
28/07/2003:
Help Help, I've fallen and I can't get up!

Posted by Golem

Quote of the Day


<Spanner> u cant go into 3rd person? thats normal for a 21 year old man.
(12/05/2002)

Player Data

NEWEST PLAYER

snuffsaid for Q3F
joined 10/12/03

---

Birthdays

shabbyj was 47 years old
2 days ago.



---